I love order, but I don't see much of it where I live!
Hence, I try to impose order on whatever areas of life I feel I have some sort of control over, and this includes quilting. At the start of the year I made a list of what I wanted to sew and when. However this got thrown out the window when I decided I wanted to
make a quilt
for the Pantone Radiant Orchid Challenge. Everything else got put on hold while I worked and worked on that!
But this week order was resumed and I got back to my list. First up was a simple baby blanket for a lovely Indonesian friend of mine who had a little boy last week.
I pieced together simple, ordered strips for the front and the back, alternating owls, plain navy and plain lime green. I added a layer of batting, and sewed it all together around the edges. Ideally I would have just used flannel or fleece on the back but I can't get that here.
I embroidered a little label to go on the back to make it a bit more special.
Linking up with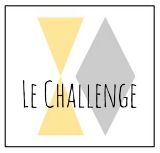 Head on over there and see all the other entries for this month!